Menu
Soups
Pancake soup
Clear soup with shredded pancakes
€ 4,80
Homemade goulash soup
big cup with aromatic farmhouse bread
€ 5,80
€ 6,90
Potato soup with marjoram
big cup with a pair of sausages and bread
€ 4,80
€ 6,90
Beef bouillon
with semolina dumpling
with liver dumplings

€ 4,80
€ 4,80
Traditional bavarian "wedding soup"
with shredded pan cakes, semolina and liver dumplings
€ 6,90
Starters and salads
Green Salad
leaves of salad with vinaigrette and french dressing
€ 4,80
Mixed Salad
different salads with vinaigrette and french dressing
€ 5,80
Mixed Vegetables
different kind of vegetables
€ 4,80
Starter plate
with roasted anti-pasti-vegetables, farmer´s ham,
toast and butter
€ 10,80
Salad bowl
several fresh leaf and raw salads, toast and butter
Chef: with ham, cheese and egg
€ 11,90
House: with tuna, anti-pasti-vegetables, onions, olives
€ 12,90
Hot dishes
Filet of char
roasted in almond butter, potatoes
€ 16,80
Wiener Schnitzel
breaded escalope, with french fries,
mountain cranberry jam, mixed salad
from pork
from veal

€ 15,50
€ 17,90
Sirloin steak
with roasted onions, jus,
rösti (fried pancake of grated potatoes), green beans
€ 18,50
Mixed grill
medallions from beef and pork, sausages, bacon,
hollandaise sauce, and French fried potatoes, salad
€ 18,50
Rump steak
grilled tomato, French fried potatoes, herb butter, salad
€ 18,50
Bavarian specialties
Vegetable Rösti
Fried mixed vegetables on a fried potato omelette
gratinated with sauce hollandaise and cheese from Ettal
€ 9,80
Bavarian plate
Roasted pork, several sausages, sauerkraut and bread dump
€ 13,50
Ammergauer Knödel Gröstl
fried slices of dumplings, with bacon bits, egg, salad
€ 9,80
Käsespatzen
Swabian noodles, served in a pan, with roasted onions, salad
€ 9,80
Schwabenpfandl
pork medallions in cream sauce, cheese spaetzle
roasted onions, served in a pan, mixed salad
€ 16,50
Roasted pork
with dark beer sauce, potato dumpling, red cabbage
€ 10,50
Farmer's omelet
with pieces of roasted meet, onions, mixed salad
€ 9,80
Goulash of venison
red cabbage, Swabian noodles, mountain cranberry jam
€ 16,50
Our house plates - from 6:00 p.m. and 2 person minimum
We serve a starter salad to all of our warm plates. After the dinner a "schnaps" or Espresso is waiting for you.
Snack plate "Ammergau
rustic snack with several kinds of pork sausage, cheese from Ettal cold meat, lard in a small bowl, radishes, mixed pickles, aromatic farm house bread and butter
p.P. € 11,90
Post horn plate
medallion of pork, beef tournedos, pork escalope, roasted bacon, sausages, sauce hollandaise, vegetables, dauphine potatoes, French fried potatoes
p.P. € 22,00
Ammergauer Bauernschmaus
roast pork, sausages, smoked and roast meat from the grill, dark beer sauce, sauerkraut, bread and potato dumplings
p.P. € 18,90
Grilled Entrecote double
double sirloin steak, vegetables, grilled tomatoes, potato rösti, potato croquettes, sauce béarnaise, herb butter
p.P. € 23,00
Snacks
Cheese plate "Ammergau"
several types of cheese from the cheese dairy Ettal,
with fig mustard and aromatic farm house bread
€ 12,90

Münchner Weißwürste
veal sausages with pretzel and sweet mustard
2 pieces
3 pieces
extra pretzel



€ 6,60
€ 8,20
€ 1,50
Post plate
rustic snack plate with several types of pork sausages
cheese from Ettal smoked meat, lard in a small bow
aromatic farm house bread and butter
€ 12,90
Bavarian sausage salad
pork sausages in vinegar and oil
with onions rings and aromatic farm house bread
€ 9,50
Sweets and desserts
You will find more deserts an our ice cream menu
Homemade "Kaiserschmarrn"
as a main course
as a dessert
€ 9,80
€ 7,90
Apple strudel with custard sauce
as a main course
as a dessert
€ 6,90
€ 4,50
Red fruit jelly
with custard sauce and whipped cream
€ 5,50
Apple fritters with custard sauce
€ 6,90
opening hours:
Our restaurant is open all day. No day of rest.
Information Passion Play 2022
30. October 2019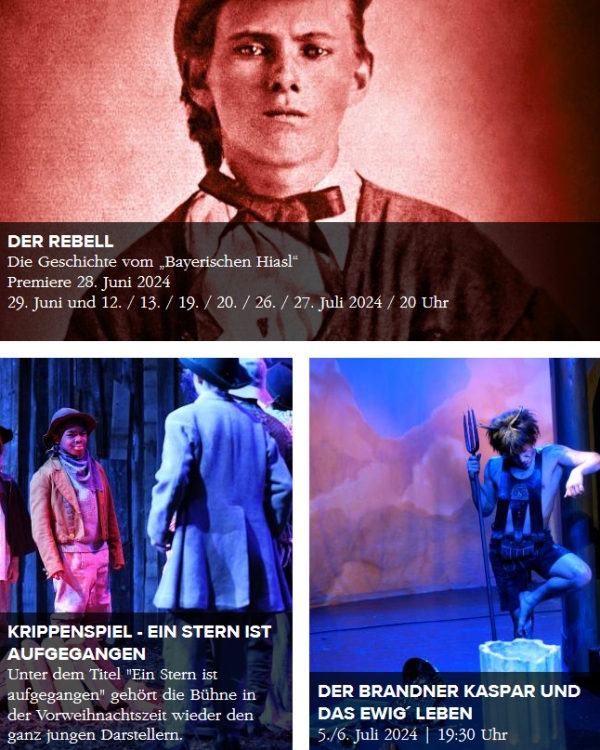 The 42nd Oberammergau Passion Play will be postponed due to the current situation caused by the corona pandemic. The basis for this is a decision of the district administration of Garmisch-Partenkirchen, which prohibits the performance of the event planned from 16.05.2020 to 04.10.2020. The health of our guests and participants is our highest priority, therefore the responsible persons have decided to postpone the premiere of the Passion Play, which was planned for 16 May 2020, until 2022. The premiere is now scheduled for May 14, 2022.
The health of the population is a top priority for the community of Oberammergau and the directing team around Christian Stückl as well. The Corona pandemic has made it impossible to complete this year's play without endangering the performers and guests. Furthermore, the perspective for this year is unclear. A postponement of only a few months seemed unacceptable to everyone involved.
Two options are offered for the reimbursement of tickets and arrangements already purchased: From April 6, reservations for this year's performances can be converted into a reservation for 2022. Another possibility is to cancel tickets and arrangements. In this case you will receive a refund of the ticket or arrangement.
You will find information promptly on the official website www.passionplay-oberammergau.com. Thank you for your understanding that due to the current exceptional situation our booking service is currently not available by phone, mail or e-mail.
We would like to thank you very much for the many warm words and the support! We, too, have to process the resolution first, sort it out and reposition ourselves for 2022. Please be patient, we will try to inform you about the new status as soon as possible. Together we now look forward to 2022 and hope to welcome you in Oberammergau.
Schedule 2022
14 May to 2 October 2022
Days of performance
Tuesday, Thursday, Friday, Saturday, Sunday
Times
14 May to 14 August
Part I: 2:30 p.m. - 5:00 p.m.
Part II: 8:00 p.m. - 10:30 p.m.

15 August to 2 October
Part I: 1:30 p.m. - 4:00 p.m.
Part II: 7:00 p.m. - 9:30 p.m.
Tickets and arrangements for 2020 can be rescheduled for 2022. The tickets are valid for the same day of the week. For example, if you had tickets for Thursday, June 25, 2020, you can have them converted to tickets for Thursday, June 23, 2022. Please fill out the form (PDF download). If you do not actively convert or cancel your 2020 booking, our booking service will contact you in the coming weeks.
Please note that tickets for 2022 cannot be purchased at this time, as bookings for 2020 must first be cancelled. We will inform you about the start of advance sales in due time.