Restaurant

Our restaurant consists of a bright and cosily designed main area and several smaller rooms where you can feel at home. Immerse yourself in the lively hustle and bustle on the village square while you enjoy a latte macchiato on the sun terrace in front of our hotel. Or let yourself be tempted to feast on not just Bavarian treats from our superb kitchen in the rustic inn.
We look forward to you visiting us.
The Preisinge family
Poststüberl
approx. 35 seats
Breathe in the history in our rustic Poststüberl. You can find a unique atmosphere here between thick walls. The 17th century wooden ceiling is decorated with several former trade partners' coats of arms. The rustic wooden panelling and old tiled stove perfectly complete this room's warm, pleasant ambience.
"Kofel-Blick" café and restaurant
approx. 130 seats
Wood, marble, local carvings, gilding and lovingly painted walls decorate our hall that accommodates up to 130 guests. The sliding glass front offers unique views over the hustle and bustle on the village square. Our restaurant is the ideal place for a lovely cup of coffee, the morning paper or a slice of cake in the afternoon. This hall is also ideal for all kinds of celebrations.
Hubertus-Stube
approx. 60 seats
According to the Hubertus legend, which has been told since the Middle Ages, he was converted on the hunt while pursuing a magnificent deer which he perceived to have a crucifix between its antlers. That is why Hubertus is seen as the patron saint of hunters. This is also clear in our cosy room. Old hunting weapons, antlers and the local shooting club's target of honour make the guest room into something really special. The room can also be used for conferences: a projector, screen, flip charts, food and drink as well as free parking spaces at the hotel are of course available.
Sun terrace
approx. 100 seats
Immerse yourself in the lively hustle and bustle on the village square while you enjoy a latte macchiato on our terrace. The wonderful view over the local Kofel mountain makes the Bavarian treats from our superb restaurant taste even better. Good wines and freshly tapped beer round off your stay and invite you to just chill.
Events
You celebrate... we'll do the rest
We can accommodate family parties with as many as 150 people. We will be happy to advise you on your individual choice of menu.
We are available for you at any time if you have any questions.
Information Passion Play 2022
30. October 2019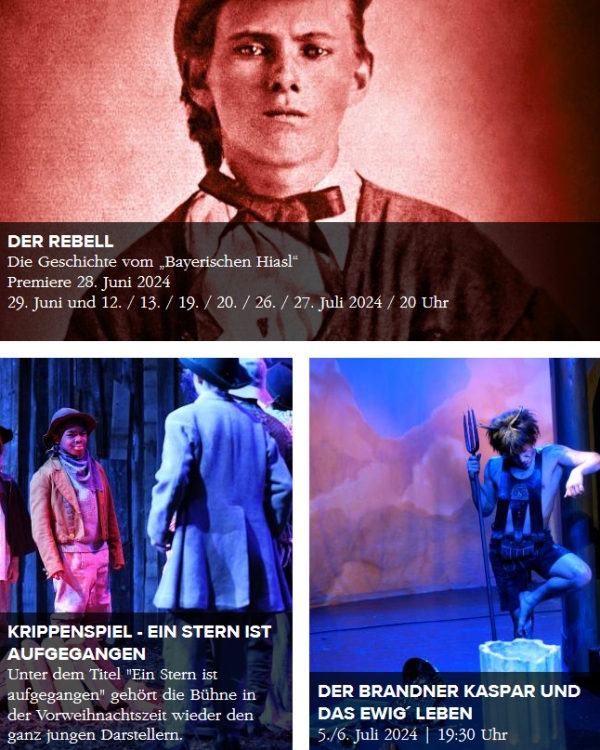 Passion Play 2022
You want to visit the Passion Play 2022 and want to stay in our hotel?
Sure, we can offer you different options:
Option 1:
Our Hotel offers rooms of different categories in walkable distance to the theatre.
All of our rooms are sold in combination with the tickets by the municipality!
You have to book directly:
Eigenbetrieb Oberammergau Kultur
Ludwig-Thoma-Straße 10
82487 Oberammergau
Tel. +49 8822 949 88 0
Fax +49 8822 949 88 56
This email address is being protected from spambots. You need JavaScript enabled to view it.
Option 2:

If your favourite date is fully booked already we can offer you to come for the Passion Play rehearsal with a much lower rate:
Our special offer:
3 – Day-Rehearsal-Arrangement:
2 x nights including breakfast
Date 1: 09 May-11 May 2022 or Date 2: 12 May -14 May 2022
1 x ticket in category 1
1 x dinner on arrival date
1 x 3-course-menu in the break
1 x text book
free use of public transport
local city tax
rate per person in double room/twin room: 399,- € (incl. VAT)
rate in single room: 450,- € (incl. VAT)
Should you have any other question, please do not hesitate to ask.
Hotel Alte Post Oberammergau
Dorfstraße 19
82487 Oberammergau
Tel.: 0 88 22 / 91 00
FAX: 0 88 22 / 91 01 00
mail: This email address is being protected from spambots. You need JavaScript enabled to view it.