Contact
Hotel Alte Post GmbH
Dorfstraße 19
82487 Oberammergau
Phone: 0 88 22 / 91 0-0
Fax: 0 88 22 / 91 0- 100
E-Mail: This email address is being protected from spambots. You need JavaScript enabled to view it.
Information Passion Play 2022
30. October 2019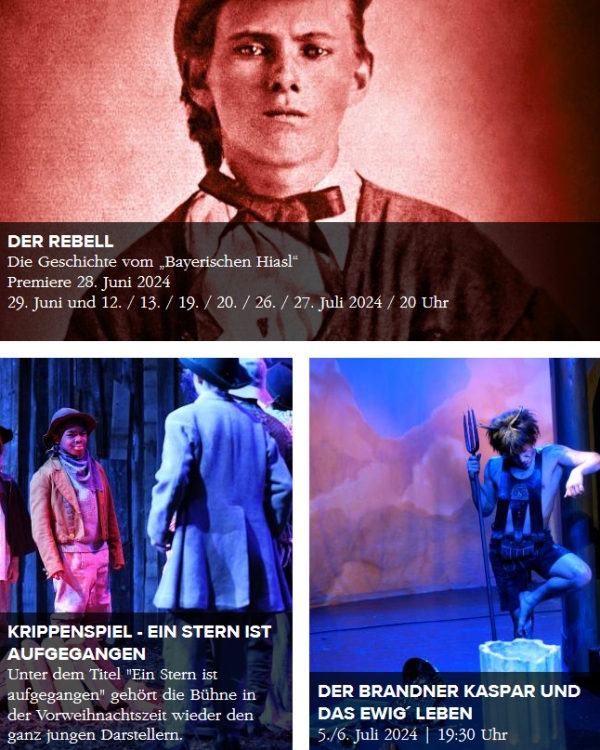 The 42nd Oberammergau Passion Play will be postponed due to the current situation caused by the corona pandemic. The basis for this is a decision of the district administration of Garmisch-Partenkirchen, which prohibits the performance of the event planned from 16.05.2020 to 04.10.2020. The health of our guests and participants is our highest priority, therefore the responsible persons have decided to postpone the premiere of the Passion Play, which was planned for 16 May 2020, until 2022. The premiere is now scheduled for May 14, 2022.
The health of the population is a top priority for the community of Oberammergau and the directing team around Christian Stückl as well. The Corona pandemic has made it impossible to complete this year's play without endangering the performers and guests. Furthermore, the perspective for this year is unclear. A postponement of only a few months seemed unacceptable to everyone involved.
Two options are offered for the reimbursement of tickets and arrangements already purchased: From April 6, reservations for this year's performances can be converted into a reservation for 2022. Another possibility is to cancel tickets and arrangements. In this case you will receive a refund of the ticket or arrangement.
You will find information promptly on the official website www.passionplay-oberammergau.com. Thank you for your understanding that due to the current exceptional situation our booking service is currently not available by phone, mail or e-mail.
We would like to thank you very much for the many warm words and the support! We, too, have to process the resolution first, sort it out and reposition ourselves for 2022. Please be patient, we will try to inform you about the new status as soon as possible. Together we now look forward to 2022 and hope to welcome you in Oberammergau.
Schedule 2022
14 May to 2 October 2022
Days of performance
Tuesday, Thursday, Friday, Saturday, Sunday
Times
14 May to 14 August
Part I: 2:30 p.m. - 5:00 p.m.
Part II: 8:00 p.m. - 10:30 p.m.

15 August to 2 October
Part I: 1:30 p.m. - 4:00 p.m.
Part II: 7:00 p.m. - 9:30 p.m.
Tickets and arrangements for 2020 can be rescheduled for 2022. The tickets are valid for the same day of the week. For example, if you had tickets for Thursday, June 25, 2020, you can have them converted to tickets for Thursday, June 23, 2022. Please fill out the form (PDF download). If you do not actively convert or cancel your 2020 booking, our booking service will contact you in the coming weeks.
Please note that tickets for 2022 cannot be purchased at this time, as bookings for 2020 must first be cancelled. We will inform you about the start of advance sales in due time.